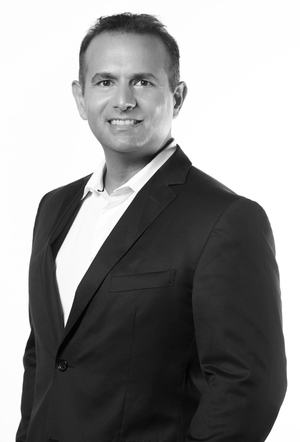 OPHIR STERNBERG FOUNDER & CEO
Ophir Sternberg began his career assembling, acquiring and developing properties in emerging neighborhoods in New York City, which established his reputation for identifying assets with unrealized potential and combining innovative partnerships with efficient financing structures to realize above average returns. Sternberg came to the United States in 1993 after completing three years of military service within an elite combat unit for the Israeli Defense Forces (IDF).
In 2010, Sternberg shifted his principal focus to South Florida. Again, taking the contrarian view, he led Lionheart Capital in the acquisition of several trophy luxury residential development sites at deeply discounted valuations. Dedicated to working with only best-in-class partners, Lionheart Capital has since completed numerous transactions including the development of two Ritz-Carlton projects.
Under Sternberg's leadership, Lionheart Capital executed numerous, marquee real estate transactions and repositions, including The Ritz-Carlton Residences in Miami Beach, which resulted in a total sell-out value in excess of $550 million as well as the purchase of the development's site, the former Miami Heart Institute. Additionally Sternberg led the $120 million sale of The Seagull Hotel, making it the highest grossing hotel sale of 2020 in Miami Beach.
Sternberg and Lionheart Capital are currently in development on a number of other projects, including but are not limited to retail properties in Miami's fashion and culture epicenter, The Design District. In addition to The Ritz-Carlton Residences, Miami Beach, Lionheart Capital also completed The Ritz-Carlton Residences, Singer Island in Palm Beach building a reputation for developing high-end luxury branded properties.
In 2017, Sternberg founded Out of the Box Ventures, a Lionheart Capital subsidiary, to acquire and reposition distressed retail properties throughout the United States. With over 30 properties in 17 states, Out of the Box Ventures currently controls over 6 million square feet of big box stores, shopping centers and enclosed regional mall properties with plans to improve and expand upon these acquisitions.
Sternberg and Lionheart Capital are dedicated to working with best-in-class operators and partners such as Marriott International. Lionheart Capital has been able to execute numerous, marquee transactions due largely in part to Sternberg's extensive industry relationships particularly with key institutional investors.
In March 2020, Sternberg became Chairman of OPES Acquisition Corp., or OPES, a special purpose acquisition company, or SPAC. On June 30, 2020, OPES announced a definitive agreement to merge with BurgerFi International LLC. The OPES-BurgerFi merger closed on December 16, 2020 to form BurgerFi International Inc. Sternberg is the Executive Chairman of the post-combination company. BurgerFi is a fast-casual "better burger" concept that consists of approximately 125 restaurants nationally and internationally. The OPES team, led by Sternberg, evaluated over 50 potential targets and negotiated business combination terms with multiple candidates in a span of a few months and acquired BurgerFi at what it believed was an attractive multiple relative to its peers.
In addition, since its inception in December 2019, Sternberg has been the Chairman and Chief Executive Officer of Lionheart Acquisition Corporation II, or LCAP II, the company's second SPAC (Nasdaq: LCAP). On August 21, 2020, the company raised $230M with its initial public offering and was welcomed into the Nasdaq family with the ringing of the opening bell. On August 21, 2020, the company raised $230M with its initial public offering and was welcomed into the Nasdaq family with the ringing of the opening bell. On July 12, 2021, Lionheart Acquisition Corp. II announced its business combination with MSP Recovery, a leader in data-driven solutions, recovering improperly paid benefits on behalf of Medicare, Medicaid and commercial payers.
In March 2021, Lionheart III and Lionheart IV were filed as the company's third and fourth SPACs, respectively as $100 million and $250 million dollar raises. Lionheart III plans to be listed on Nasdaq under the ticker LION and Lionheart IV plans to be listed under the ticker LHIV. Sternberg is a the Chairman and Chief Executive Officer of Lionheart III and Lionheart IV, SPACs that may seek to acquire a broad range of businesses. On November 4, 2021, Lionheart III, raised $250M with its initial public offering and was welcomed into the Nasdaq family, trading under LIONU.
On October 11, 2021, BurgerFi announced the acquisition of Anthony's Coal Fired Pizza & Wings, creating a multi-brand platform of premium casual restaurant concepts. BurgerFi was named Fast Casual's #1 Brand of the year for 2021 in the "Top 100 Movers and Shakers" list, and the top fast casual better burger chain in USA Today's "10 Best Readers' Choice Awards" for 2021. With the acquisition of Anthony's, BurgerFi will have 177 systemwide restaurant locations across the country through its two premium casual dining brands, with 61 Anthony's locations and 116 BurgerFi locations. The transaction closed on November 4, 2021.
In May 2021, Sternberg became Co-owner of the legendary and iconic American speed boat racing brand, Cigarette Racing Team, synonymous for custom-made, handcrafted, high-powered luxury performance powerboats. Cigarette's reputation as the market's premier powerboat builder has roots deep in offshore racing's history where performance made its early run for glory. From its inception in 1969, the company grew in size and reputation, based on the hard-racing, fast-lane living of its founder, Don Aronow. The Cigarette brand has grown in sophistication, becoming a product excellence company which focuses on impeccable engineering and beautiful design. Cigarette now builds the finest powerboats for the most loyal and discriminating performance boaters, using only the best in materials, technology and workmanship.